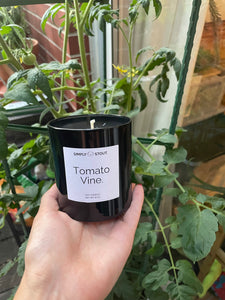 Have you ever wondered if your candles are too strong and noxious for your dog's sensitive nose? Our hand poured soy candles are blended with your dog in mind. Aromatherapy has been studied for years in dogs to ease anxiety, hyperactive moods, and overall well-being.
While pure essential oils are much to strong and toxic for dogs, their highly evolved olfactory memory makes diffusing the essential oil in the air a better option.
While our candles were created in our dogs' best interests, the blends are a calming clean presence for any home. This 8 oz candle is made from soy wax, and the aromatherapy is free from carcinogens, reproductive toxins, and other hazardous chemicals typically found in artificial candle fragrances. Hand-poured into a black container, this candle will look great on your coffee table, kitchen counter, or nightstand.
*We have done lots of reading on the research of effects of essential oil with dogs, however these candles will not prevent or cure any disease. Always check with your veterinarian with concerns first and NEVER leave a candle burning where your pet can reach it or in an unventilated room.*